In order to increase knowledge and awareness of Palestine and the Palestinians, NJP/I offers two kinds of travel scholarships.
The first type of scholarship supports travel to Palestine itself, the second to Palestine related events within the US.
Scholarships are normally confined to residents of Northfield and the surrounding area. It is hoped that on their return successful applicants will contribute to the work of NJP/I in a way agreeable to both parties.
Palestine Travel: This scholarship helps pay for recipients to enroll in a structured and focused program in the Holy Land and to gain thereby first hand, informed knowledge of the Palestinians and Palestine. There are frequent trips to the area offered by a variety of regional and national agencies. NJP/I will be happy to advise on such trips and to advise and confer with applicants as they make their choice. 
US Travel: Throughout the year there are regular national conferences addressing the  Palestinian issue. They are usually one or two days in length and held in major cities. They provide a far more up-to-date and compelling testimony to the Palestinian issue than can be gathered from the usual public news sources.  Scholarship awards are designed to help meet the expenses involved in attending such events.

For questions, and the application form relevant to your interest, please contact NJP/I either by email or postal mail:
Email: [email protected]
Postal Mail: Northfielders for Justice in Palestine/Israel
PO Box 118
Northfield, MN 55057
The scholarships are named for Ruth Hansen, the senior founding member of NJP/I, one
who has visited Palestine many times and who has spent much of her life tirelessly
advocating on behalf of the Palestinians. NJP/I Co-founder dies at age 99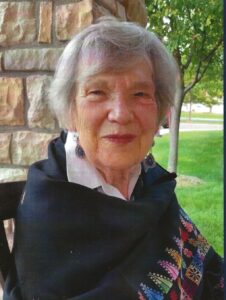 Ruth Hansen was born on August 19, 1923, in Zumbrota, Minnesota. She died on December 25, 2022, her 100th Christmas. As a daughter of a pastor and a church choir director, Ruth acquired an early love of music, learning, and entertaining. Ruth graduated from St. Olaf College (1945) with a Bachelor of Arts in Music Education with a minor in History, later teaching high school music, English, and history.
Ruth and her husband, Pastor Erling W. Hansen, received a gift (from their church) of a study tour to the Holy Land. This landmark experience led to another career: Ruth became a tour host, and for over 40 years, she led 45 tours to 5 continents, including 21 trips to the Holy Land. Her knowledge and expertise led to many invitations to be a guest lecturer on Biblical archeology, current affairs and historical perspectives on the Middle East. She also served as an instructor for the Cannon Valley Elder Collegium, offering courses on Palestine, Greece, Turkey, and Egypt.
Ruth was a lifelong servant and advocate for social justice, and she co-founded the Northfielders for Justice in Palestine/Israel.
Ruth was the recipient of the Alumni Distinguished Service Award at St. Olaf, and a "grandma" to hundreds of St. Olaf students.
Ruth was a consummate director, of choirs, of worship, of events, and of family, and her prowess as a musician was particularly notable. Her West Allis high school church choir numbered 85 voices. Ruth was the first female guest conductor of the Milwaukee Symphony Orchestra, conducting  a performance that combined the orchestra with a 300-voice ecumenical choir.
In addition to her very full calendar, Ruth was known for spreading joy and for her infectious laugh. Ruth and Erling retired to Northfield in 1991, where she was an active member of St. John's Lutheran Church.